SORRY, RACE NOW FULL!
A 10km race run over an undulating course around the villages of Colton and Marlingford. Race HQ at Sports Hall, Easton College, Bawburgh Road, Easton Norwich NR9 5GA. Changing area, showers. Toilets and refreshments will be available.
This is the second race in the Grand Prix series of 11 races, sponsored by SportLink Running and Fitness. It is also the County Championship 10K race for 2019.
Race start: 9:30am (please note new start time).
Race HQ: Race HQ will be at the Sports Hall and Conference Centre, Easton College, Bawburgh Road, Easton, Norwich (postcode for satellite navigation NR9 5GA )
License: The race will be run under a UKA license, license no: 2019-35107
The Course: The course has been accurately measured by an approved UKA course measurer and will be marked at each kilometre. The race starts from the middle of the Easton College grounds. The course is an undulating loop around the villages of Colton and Marlingford on country lanes. For your own safety you must run on the left hand side of the road at all times, the roads will not be closed to other traffic. Please obey the instructions of the course marshals who are there for your own safety. A water station will be provided on the course at approximately 6 km.
Race Limit: 700 entrants
Race Entry: £16.00 affiliated, £18.00 unaffiliated Minimum age on race day – 15 years. (Affiliated means that the entrant belongs to a UK Athletics/ARC affiliated club)
Prizes: First female and male £50; second female and male £25; third female and male £15. Trophies for 1st, 2nd and 3rd Female and Male in the age categories 15-39; 40-44; 45-49; 50-54; 55-59; 60-64; 65-69; 70+. Team trophies: First female/male senior team (x4 runners); First female/male masters team (x4 runners). County prizes: County trophy for first Male and first Female, County medals for 1st, 2nd and 3rd male and female in the age categories 15-39; 40-44; 45-49; 50-54; 55-59; 60-64; 65+ County team medals: 1st, 2nd and 3rd male (x4 runners) and female (x4 runners) Senior (under 40) and Masters (40+) teams. Only clubs affiliated to Norfolk County AAA are eligible for team medals. There will be a medal for every finisher.
Directions to Easton College: Easton College is situated approximately 7 miles west of Norwich just off the A47. There are road signs with directions to Easton College. For SatNavs the College recommends you use the postcode NR9 5GA – this should take you to the Norwich Family Golf Centre close to the College but please check your destination at Easton is correct. Depending on your SatNav either this postcode or NR9 5DX may take you ten miles away. (There is a map on the Norfolk Gazelles website.)
Parking: Parking is available on the Easton College site but is limited, so please car share if at all possible.
There may be other events at the College on the day so please park as instructed by the car park marshals.
Facilities: There will be changing facilities and showers, refreshments and a bar. Baggage storage facilities will be provided. Please note that any baggage left will be at your own responsibility, Norfolk Gazelles will not be held responsible should any property go missing.
Race number: Please collect your race number and timing chip from Race HQ on race day. You must not pass your race number onto another runner. Your race number must not be cut, folded or mutilated in any way, and must be fastened securely to the front of your vest or top and not covered.
Please provide the information requested on the back of your race number.
Timing chips: The timing chips are not disposable. Please attach securely to your running shoe, and return the chip to a member of Norfolk Gazelles immediately after you finish.
First Aid: Qualified personnel will be in attendance and situated near the finish area. Half way round the course at the drink station, If you need attention during the race please seek the help of the nearest marshal.
MP3 Players: Please do not bring along your MP3 player to listen to music whilst running. For your safety, you will need to be able to hear and follow instructions from the marshals around the course. Anyone found running with earphones will be asked to withdraw from the race and will be disqualified.
Results: The race results and prize winners will be published on the Norfolk Gazelles website and at http://www.chiptiminguk.co.uk/ps/results.
Courtesy: As noted above, the roads will be open to other users and are popular with local horse riders and dog walkers. Please be courteous to all other people on the race route.
Declaration: By entering this race, you are declaring that you are an amateur runner as defined by UKA rules. You agree to abide by UKA rules and the race referee's decisions. You understand that neither the organisers nor their servants will be liable for any injury, illness, loss or action claim (howsoever occasioned) resulting from this event.
Data Protection Act: Entering this race indicates your consent to Norfolk Gazelles and their agents to process and communications include: entry list and race results on websites and for media purposes; photographs for publicity purposes; and publicity for future events. Your details will be retained for 12 months after the race and will not be disclosed to a 3rd party without your consent.
Any questions: Please email racedirector@norfolkgazelles.co.uk if you would like any further information.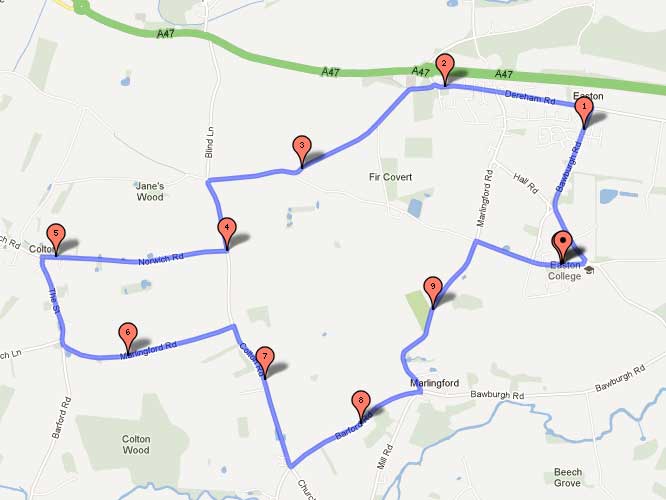 License No:2019-35107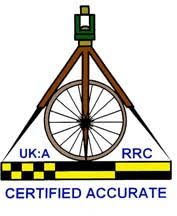 Previous Races
Results
Photos